2016, has definitely experienced some scintillating weddings which are obsessed with new trends, new designs for all the wonderful new Beginnings. So, as we wrap up this year, we though we would give a little visual treat with some of the best wedding pictures of 2016.So slide down and be prepared to take in all the awesomeness.
1.One hand over the other is the most natural body language for any bride with all the adrenaline rush and this picture is just perfect with the beautiful mehendi and the beaming Emerald green ring. Photography: Dattu Khandavilli Photography
2. Ace photographer Neeta Shankar never cease to surprise us with her creativity. Someone might have asked for a couple pic, so why not? Shot by Neeta Shankar photography.
3. Woah! doesn't it look like the love is radiating in their reflection? Hell yeah!! That's the magic of our talented Sowmya who turned it magical through her lens. Shot by Sowmya Photography.
4. There are little moments over the course of your wedding which cute and magical.one such is where you wait for the groom.And for obvious reasons the photographer managed to capture it perfectly along with her poola jadai. Shot by Smarya.
5. Mangalasnanam has turned out to be one of the most fun-filled with with your cousin's squad around. This picture sums it up perfectly and all thanks to Sowmya again for such an experiment.Shot by Sowmya Photography.
6.  That Intricacy of the bridal mehendi is hard to miss and shots like these are always a keeper for all the generations to come and they would definitely put a wide smile across when revised. Photography:  Dream Diaries
7. Ah!! the Bachelors in Blue.This hits the head on the nail when it comes to defining squad goals and all the creativity goes to CreativeWeddingPhotography.
8. Fresh flowers and Indian weddings are inseparable. The delicate scent of these jasmine blossoms and their beauty when a bride adorns them is like no other .Shot by Arun Candid Wedding Photography .
9. They says that your eyes speak speak a million words, but I seriously want to rethink over that as virtuoso photographer Sowmya's lens too does the same.Shot by Sowmya Photography.
10. Probably the bride must have rehearsaled this moment for a thousand times ever since her childhood. But, when she finally experiences the moment, she falls short of words.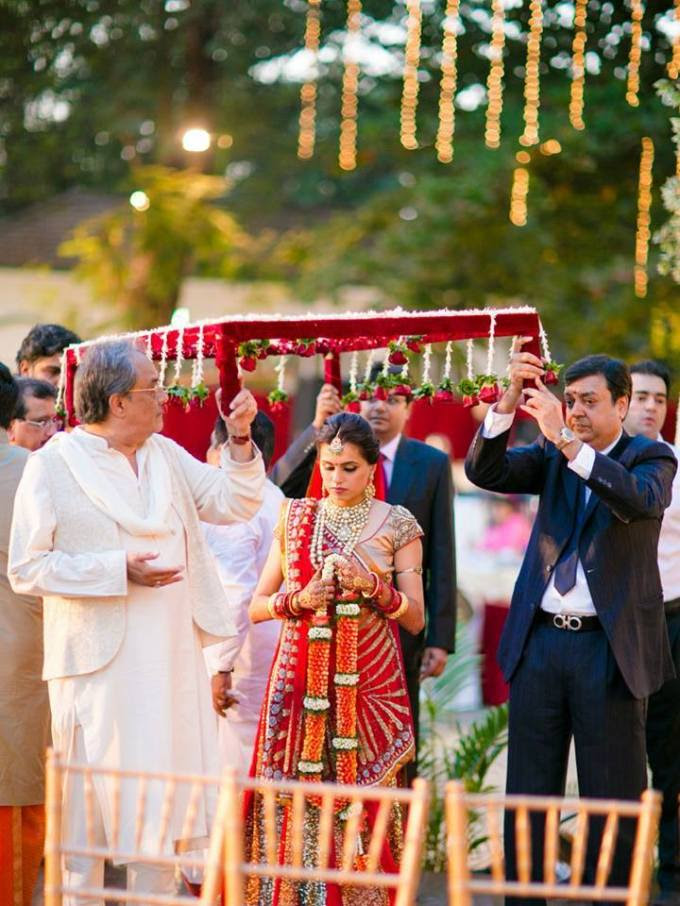 11.Ever witnessed what pure joy and fun looks like? Dharma Teja surely bought it to life with all the  Lovely Indian Bridesmaids and their pink umbrellas.Shot by A story By Dharma Teja.
12. There is little things in any wedding which are hard to miss for example, this Kobbaribondam or the coconut is bought by the bride to the mandap representing prosperity .Shot by Color Frames Photography.
12.Sometimes all it takes is some miniature versions like these to bring a wide smile on your face.Here is your age old 'Bommala Pelli' beautifully captured.
12.  "Virisina poo malaga vennuni yeda vaalaga" goes a telugu number and what better way  to depict the importance of the vara mala which is captured equally beautifully by  Uday Mallipudi Photography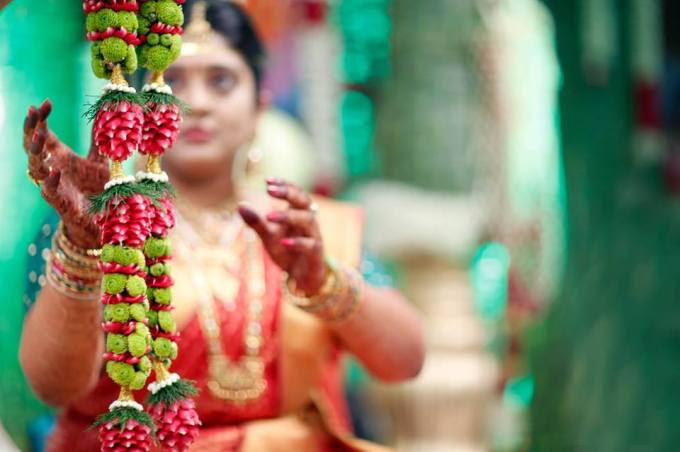 13.  One of the most popular shot across all the groups and pages across social media. The beautiful palmyrah decor, white and yellow country flowers and those eyes of the bride which are an ocean of emotions. Excellent shot by The Con artists.
14.  Well!!, that surely was a Scintillating bridal entry.The subtle light of the fireworks and that beaming smile of the bride moments before she is going to reach her prince charming.Again an epic shot by Dharma Teja.
15.  Love for the Pooch explained Pawrfectly. Dilipan Photography here made sure they had a heavy dose of humour involved in their wedding shoot and this picture is undoubtedly a keeper for all those years to come.
16.  The Round Robin theory explained!! Look at the bride who is trying to have a good look for her prince charming and the groom , oh !! he is posing for  SaiRam Photography. Awesome photography.
17. The modern day Swayamvaram , cant get better than this. The white and red decor and the detailing on the garlands is really hard to miss.While that is one thing, the fun moment between the bride and groom is worth millions.Shot by Vipin Photography.
18. Mettela savvadi!! Adorning silver toe rings post the wedding has been a custom for almost all the brides in India irrespective of the caste and religion. Seen here is a newly wed in all her glory as her aunt help her wearing them.
19. Costume photography is the In-trend in wedding photography these days.But AJ photography took the wedding lehenga to great heights.Can't believe? Here is the proof!!
20.  A picture collage of just the wedding jewellery? Of course,  diamonds deserve all the limelight and they are undoubtedly the show stoppers. Shot by Wedding Twinkles.
21. The subtle beauty of the lotus backdrop with the beautiful couples.Sometimes we wounder how  Smiles and Dreams work their way out to create such magic staying true to their name.
22. Mystic studios , staying true to their name, captured this amazing shot of the bride in all her heirloom temple jewellery.The smile of the bride and the grandeur of the jewels and her kanchivaram, over all a match made in heaven!!
23. Studio A never cease to surprise us with their love for silhouette photography. This picture is just a sample into their efforts to bring the best out any couple.
24. To many jasmines said no one ever. The subtle decor with loads jasmine is what seems like decor goals. Photography: Memory Lanes by Suman Chakri
25. Beautiful Taamara design on the feet, inspired from the moghal architechure is definitely hard to miss and special thanks to  Bugzy photography  who shot it to perfection.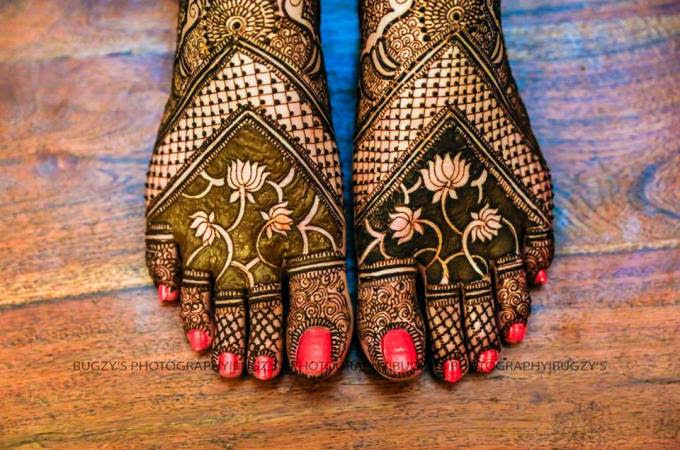 Well, I know you are wanting for few more of the best pictures from 2016.Stay tuned!! we would be back very soon with that.